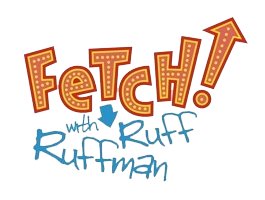 Fetch! with Ruff Ruffman (also known as Fetch! or FETCH! with Ruff Ruffman) was a PBS Kids reality game show television series that aired from Monday, May 29, 2006, to Thursday, November 4, 2010. It ran for 5 seasons with 20 episodes each, for a total of 100 episodes. The show ended because of lack of funding, but it still airs reruns on the PBS Kids 24/7 channel and has a number of spinoffs.
End of the Show
Edit
Thursday, November 4, 2010 was a sad day for Fetch! viewers. Season 5 and the series had ended.
"It's just so disappointing," says 12-year-old Laurel James. "I wish they would continue the show."
Well, Laurel, you're not alone. All over the United States, people are mourning Ruff's farewell.
"My children glean so much from watching it," Charlotte, a mom of three, says. "They love taking the Half-Time Quiz Show along with the contestants in Studio G."
Good-bye to Ruff, Scruff, Grandma Ruffman, Blossom, Chet, Gwendal, and not to mention all the energetic, talented, contestants. We'll miss you.
Fetch! with Ruff Ruffman may not seem like much, but it is. It's a huge contribution to the fabric of American life.
Petition to revive the show
Edit
There is a petition to revive the show at http://www.petitiononline.com/fetchpbs/petition.html and currently has 2139 signatures.